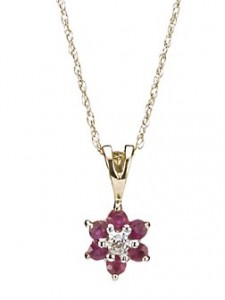 Ruby necklaces are stunning necklaces that can be given as gifts at any time of the year. The blazing red ruby gemstones will lift your spirit and your soul and be the centrepiece of your jewellery collection. Ruby necklaces work in harmony with other ruby jewellery such as matching ruby earrings, ruby rings and ruby bracelets.
Not just a summer colour, ruby red is as reminiscent of the sun rising as of the soft glow of bonfire embers to the pretty winter berries coated in diamond-like petals of snow. Ruby necklaces suit any skin tone or hair colouring and make treasured gifts as a treat to yourself or a surprise for someone special.
You'll find many ruby necklaces to choose from at Necklaces.org.uk. With secure online ordering from your favourite High Street and online stores it simply couldn't be easier to choose the perfect ruby necklace gift for your girlfriend, wife or partner.
Ruby is the colour of fire, passion and desire and is the nominated birthstone for July and the Cancer zodiac star sign. Ruby necklaces make excellent gifts and talismans for good luck and good fortune for those born in this summer month.
Ruby necklaces are also the necklaces to celebrate your 15th wedding anniversary and also your 40th wedding anniversary, number of years together or even as a birthday surprise. Red is a powerful colour of passion and sensual paradise.
Diamond and ruby necklaces are popular choices as the diamonds lift the edge of the ruby gemstone and add colour and sparkle to the jewellery. You'll find many special necklaces at Necklaces.org.uk and feel free to return from buying your gifts to choose something special for yourself.